One preliminary data product is the ability to link more than 700 settlement areas[1] shown on the Neptis Geoweb by upper- and lower-tier municipalities with a water treatment plant and/or wastewater treatment plant, as the settlement areas are linked to more than 260 municipal drinking water reporting areas in the Greater Golden Horseshoe. With this information, the settlement areas can be mapped by water source, differentiating settlement areas served by Great Lakes and those served by inland water systems. Settlements that depend on rivers, small lakes, or groundwater may face greater limits to growth compared with those that draw water from or discharge it to the Great Lakes.
Note that the settlements identified as "inland" lakes and rivers include settlements with municipal services that draw on groundwater, and settlements without municipal water systems in which water comes from private wells, or settlements in which only some residents draw from a communal water system (such as Omemee). In Phase 2, it will be necessary to refine these maps.
Figure 7: Settlements by source of water
Figure 7: Settlements by source of water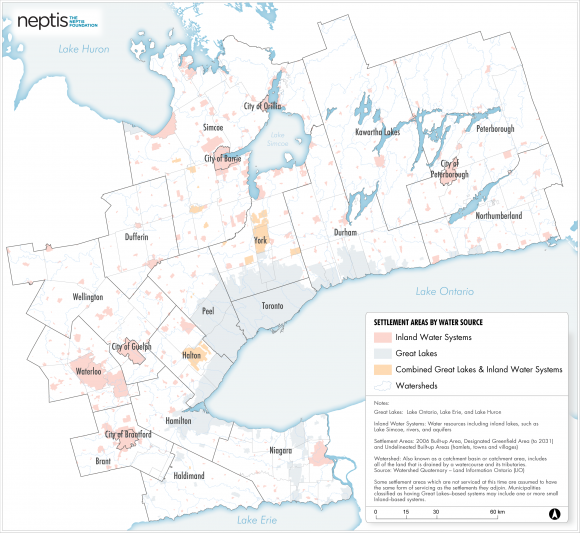 ---
[1] This number includes settlements identified in municipal official plans from across the Greater Golden Horseshoe. It does not include certain shoreline and resort communities or rural employment areas that may have municipal drinking water systems.